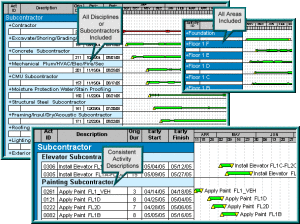 Construction and Schedule Management Services, LLC (CSMS) has a proven track record of assisting clients with various types of projects, ranging from $300k to $200m in total contract value.  I can help you correct schedule problems you may be currently experiencing.
I specialize in providing prompt, professional construction planning and scheduling services. I am a PMI and AACE Certified Schedule Professional with over 25 years of construction project management and specific scheduling experience as a subject matter expert, SME.
Visit my The Blue Book ProView Profile to see past performance ratings.
Construction and Schedule Management Services, LLC is a Veterans Administration certified Small Veteran Owned Business and State of Virginia SWaM Certified Small & Micro Business listed on the eVA Pre-Qualified Vendor's List (PVL) #E194-73526.
I am committed to my clients and always respond promptly with updates, revisions or reports. I build trusting relationships with my clients and enjoy working with them on subsequent projects. I am happy to provide references upon request.
The benefits you will enjoy through the use of my services and "Best Practices" for schedule planning, development and management are:

Better planning and sequencing of work. This will allow your project teams to manage work more effectively.
Improved management of resources and subcontractors. This derives from sharing your plan with your project team and your project team trusting the schedule.
Increased owner satisfaction and relationship development. Your customers will trust your ability tp plan and execute your work.
Better change order management. Customers need to be able to objectively quantify and document change order and delay time requests.
Ability to recognize and identify problems and trends. Using a CPM schedule allows the identification of the ripple effect from a delay in an activity early in the project, and subsequent impact to the critical path (longest path) of the project schedule. It also allows analysis which will identify areas of work that are not yet pushing the end date, but are trending towards that condition a little each period.
The ability to manage the identified problems and trends through the analyzation and the selection of the most cost-effective methods of corrective action and recovery. Identification of the problem early allows the project team to proactively manage the issue through increased resources, extended work hours, or additional work days, before the problem gets too big and expensive to manage.
Contact me to find out what we can do to help you better plan, schedule, and manage your projects!