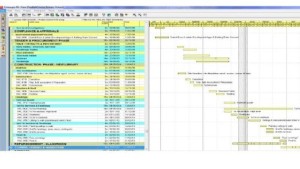 There are times when the schedule update process shows the project has not made adequate progress to maintain the schedule as planned. It could happen…..
The problem starts when we work with our contractor client to correct the out-of-sequence relationships and make the necessary revisions to best model the team's path going forward.
At some point, it becomes apparent that nothing we can do to the schedule, which doesn't include adding cost/resources, is going to model a plan to complete on time. We typically look at resequencing work on the critical (longest) path, which may or may not include costs. We look at reducing durations to work on the critical (longest) path, which almost always includes costs. This is an iterative process as the critical (longest) path continually shifts as we change the various paths.
So, what happens we're working with the contractor's team to bring the project back on schedule? We strive to find the most cost-effective method of reducing the time required to complete the project, but there is soon going to be a point of diminishing returns for costs to "recover" the schedule.
What do you tell your client?
Does your client arbitrarily direct work to be scheduled concurrently or reduce durations greatly without input from the subcontractor?
Does your client look at past delays or change orders and consider re-visiting them to request additional time they did not pursue during the "honeymoon" phase?
I believe that we, as planning and scheduling professional consultants, should strive to keep the project on course and assist eh project team with providing a successful project.
The question is: As consultants, how do we accomplish this?
We must always maintain our integrity and be honest with our client.
What has your experience been?
Do you tell your client to "suck it up, we can't afford to get back on schedule"?
Do you advise your client to convene a team meeting with the major subcontractors to see if they can assist with developing a recovery plan, at the least cost to the project? They are often well aware of the problem and have great ideas….
Do you suggest your client convene with the subcontractors and then meet with the owner to see if there is a way to provide what the owner absolutely needs to make the project successful for them and allow you to finish some of the work later than required?
Real scheduling is messy. But we all deal with issues all the time…..
There is power in building team consensus and almost every owner and contractor I have had the pleasure to work with have wanted a successful project and were willing to work with the entire project team to accomplish it.
I'd love to hear what you think!
Please visit https://conschmanservices.com to learn more about Construction and Schedule Management Services, LLC
Please visit my LinkedIn account to learn more about me.
Please visit my "The Blue Book" ProView.
Paul Epperson CCM, PMP, PSP, PMI-SP